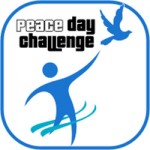 This year, as part of Children's International Summer Villages (CISV) focus on Conflict and Resolution, CISV is supporting Peace One Day with the CISV Peace Day Challenge. The main goal of the Peace Day Challenge is to raise awareness of different types of conflicts and participate in Peace Day activities on 21 September 2011. Peace Day 2001 marks the 365-day countdown to a day of ceasefire and non-violence on Peace Day 21 September 2011- a Global Truce.
Your challenge is to set up a project or activity about conflict that has an impact in your environment. Your project or activity can be designed to raise the awareness of the conflict so that more people can get involved in ways that try to resolve it, or it can be a way of providing direct help to those who are suffering as a result of conflict. As a part of the activities CISV is expecting you to hold a public event to highlight your action or your project and to show the POD film. They will be able to provide you with publicity materials to raise the profile of your event through your local media and social media.
CISV is suggesting your event could be in a school, community centre or even in a public place, with the proper permissions. It is up to you to decide what kind of action or project will be held. If you are not sure about how to start, CISV has helpful information, for instance, if you are thinking of planning a Mosaic Project. Take a look on their website and find out what has been done in previous years and get involved in this incredible initiative.
For more information, see: http://resources.cisv.org/education/categories/PeaceDayChallenge